Hello,
My name is Jonathan. Originally from central Florida in the one time small town of Lakeland, FL. I am currently residing in Lake Placid, NY. The picturesque Olympic town who the world forgot about until after 9/11.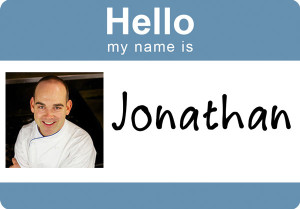 My journey began one day when I woke up and decided to make a change both personally and spiritually. Nothing worse than realizing one day that your life sucks as a twenty year old. Thank God it hit me when it did. I had a loving home and loving parents, but I wanted more. The next day I packed my bags and car. An old 1981 Mercedes 240 D that had over 350,000 miles on it. Still kind of funny how I had enough room for someone to still sit in the back seat. Even more funny is that I had the car even after it passed 400,000 miles.
Many states and European summers later I am finally figuring out what we do well. We cook! We cook with a love for the small things. We cook with a fervent desire to see people smile. We cook because it brings us back to the basics of what people need. Nourishment! Why not do something so basic with passion and love in a perfect way.
What I do:
I am a Chef turned Private Chef turned Caterer.
Who I am:
Husband. Father of two beautiful princesses.
What I like to do:
Fly airplanes. Preferably anything that is experimental. My next love after my family and cooking.
My professional influences:
Chef Heinz Hautle. One of the greatest chef's the world has ever seen.
Chef Edward Moro. Thank you for showing me that being obsessive is the only way to become great at what you do. Thank you for never letting up. Thank you for not caring if we ever liked you!
My Office:
Currently the Adirondack park.
What I am thankful for:
A loving wife who supports me in my passion. Babe, because of your support I am able to say that you are my true passion.
Where are we going:
I have always said that I don't need to be the biggest or the best. I just desire to be good at
what we do. I never thought that we would of grown as much as we have in such a small town. Thank you to all that have entrusted us with your memories.