About Solitude Catering:
Your menu can consist of anything you can dream up, or choose from a variety of suggestions. Our flexibility means your event can be about you. What do you want to say with the cuisine? Let us help you express your personality.
Solitude Catering doesn't hand out factory-made menus sold by sales people who are paid on commission. When you hire us, you will deal directly with Chef Gravatt. Since he will make the food, it makes sense to us that you explain what you are looking for to him directly. Our personalized service ensures your event will go exactly how you plan, and within your budget.
"I love being able to make somebody's dream location accessible to share with friends and family. Whether on the side of a mountain or in a barn, anything is possible." – Chef Jonathan Gravatt.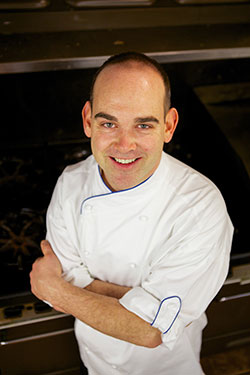 About the Chef:
Chef Jonathan Gravatt has over 15 years experience as a luxury chef preparing personal menus catered to a multitude of tastes. His worldly experience with food and constant desire to learn and perfect new trends has made him a versatile cook that can create a unique, mouth-watering menu for any occasion.
While the executive chef at the Lake Placid Lodge, the resort was a member of Relais & Chateaux, an exclusive, luxury hotel program consisting of the top world-wide destination resorts.
While employed at the Lake Placid Lodge, Chef Gravatt was responsible for ensuring each guest had a personalized experience, including creating beautiful dishes to fulfill dietary needs, or even just the whims of a patron yearning for something different.
Chef Gravatt has worked for a plethora of exclusive clients, including sports team owners, actors, CEO's and musicians, all while maintaining their privacy and discretion.
Schedule a free and personal consultation today. Contact Chef Jonathan Gravatt at Solitude Catering and learn more.